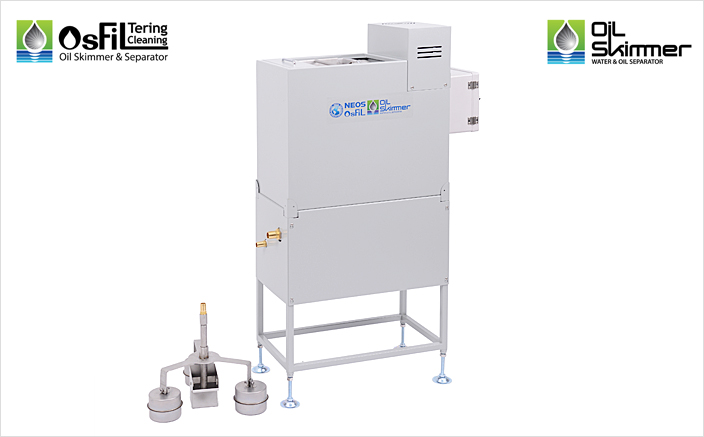 Main Function & Operation Type
Skimming( Collecting) the wasted oil and foam on the surface
of 2m under the tank ( up to 3m as option ) The most advanced
technology with Ejector and Skimmer pump and inverter and
actuator and retainer in the world.
Potential Customers
Centralized Coolant Tank of Automotive Part's Machining Factory
with CNC lathe and Machining Center Washing machinery
Purpose
To skim the lubricant and foam on the surface of coolant
(washing fluid) in the coolant tank(washing tank)
Feature
1 Collecting Up Type through the floating suction tilting unit
from the tank
2 Lift Height 2m under the ground tank (as option more
than 3M)
3 World wide Patent Technology with Ejector and Floating Suction Tilting unit
4 &nbs;Separate the floating particles through the basket filtering net
5 Separate Wasted oil in the separator tank and drop & collect to the plastic bottle.
6 Filtered Coolant is to auto influx to the original tank.
Specification
Applied Machine Tool: Washing machinery, Centralized tank in the factory and plant
How to operate : Ejector based on the Ventury Theory
| | | | |
| --- | --- | --- | --- |
| Capacity | 300~400ℓ/h | Weight | 70kg |
| Separator Tank Capacity | 47ℓ | Dimension | 700*310*1050mm (w*L*H) |
| Lift Height | 2m Under ground tank | Separator Tank | 550*300*500mm (w*L*H) |
| Electricity | 220V/60/50Hz single phase | Fluid Temperature | below 80℃ |
| Motor | 180/250W | PH | 6~11 |
| Material | SS or SUS | | |
Attention to Install
1 Install the product with Separator tank horizontally on the level.
2 Fill in the clean coolant to 2/3 of the Skimmer tank for skimmer pump's operation
3 Check the Inlet and outlet's Function under the bottom of the product
4 Adjust the bolt to be tight the floating suction unit in order to maintain the level between floating
suction unit and the surface of coolant
5 Understand the patented structure of separator tank, Coolant level control lever for coolant and Oil drain
control lever for oil outlet
6 Prepare for the plastic bottle to collect the wasted lubricant
Attention to Operate
1 Remove the small particles on the basket filter screen often.
2 Check the retainer's status on the below whether its retainer is blocked or not.
3 Remove the small magnetic particles on the magnetic plate under the basket filter screen(option)
4 Clean the bottom of Separator tank when there are a lot of sludge on the bottom. Before cleaning,
Open the drain valve under the tank and clean with air-gun efficiently.