Area of use
A deep bed band filter is an all-round and reliable filter filtration of fluids. the BELKI deep bed band filter can be used for many processing fluids, for example grinding fluids, coolants and degreasers. Dependent on the application and requirement a deep band filter can be added with a magnetic filter for fine filtration of magnetic particles, smaller than the mesh size of the filter media.
Operation
the fluid is filtered through a non-woven filter media; the quality is chosen after the specific application. the used filter media is separated from the filter cake and can be removed separately. the filtration becomes more efficient if the filter cake, which is built on the filter media, not is washed away. in contrast the filter cake establishes a filter layer that retains small particles.
Advantages
A BELKI deep bed band filter gives the best utilisation of the filter media. No leaks occur due to rupture or overflow. At the same time the design of the filter ensures that no particles are swept through the filter media, even by full capacity utilisation. A BELKI deep bed band filter is designed in stainless steel which ensures low maintenance and a long lifetime.
Specification
BELKI Deep Bed Band Filter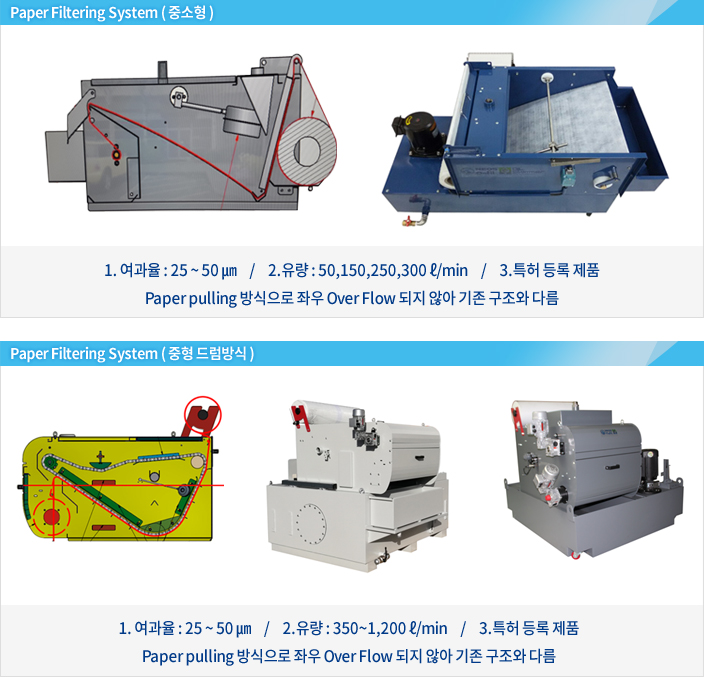 | Type | 4,5.60 | 5.10 | 7.10 | 10.15 | 12.20 |
| --- | --- | --- | --- | --- | --- |
| Filter Capacity(ℓ/min) | 50 | 150 | 225 | 350 | 500 |
| Filter surface(m²) | 0,2 | 0,35 | 0,50 | 1,0 | 2,0 |
| Degree of filtration(μm) | 20-80 | 20-80 | 20-80 | 20-80 | 20-80 |
| Acidity(pH - value) | 5-10 | 5-10 | 5-10 | 5-10 | 5-10 |
| Temperature(°C) | 20-60 | 20-60 | 20-60 | 20-60 | 20-60 |
| Connection(V/Hz) | 3x400/50 | 3x400/50 | 3x400/50 | 3x400/50 | 3x400/50 |
| Length(mm) | 817 | 1231 | 1274 | 1825 | 2201 |
| Width(mm) | 621 | 771 | 941 | 1250 | 1458 |
| Height(mm) | 363 | 673 | 673 | 796 | 794 |
Attention to Install
- 설치시 협의 요망
Attention to Operate
- 가동시 협의 요망